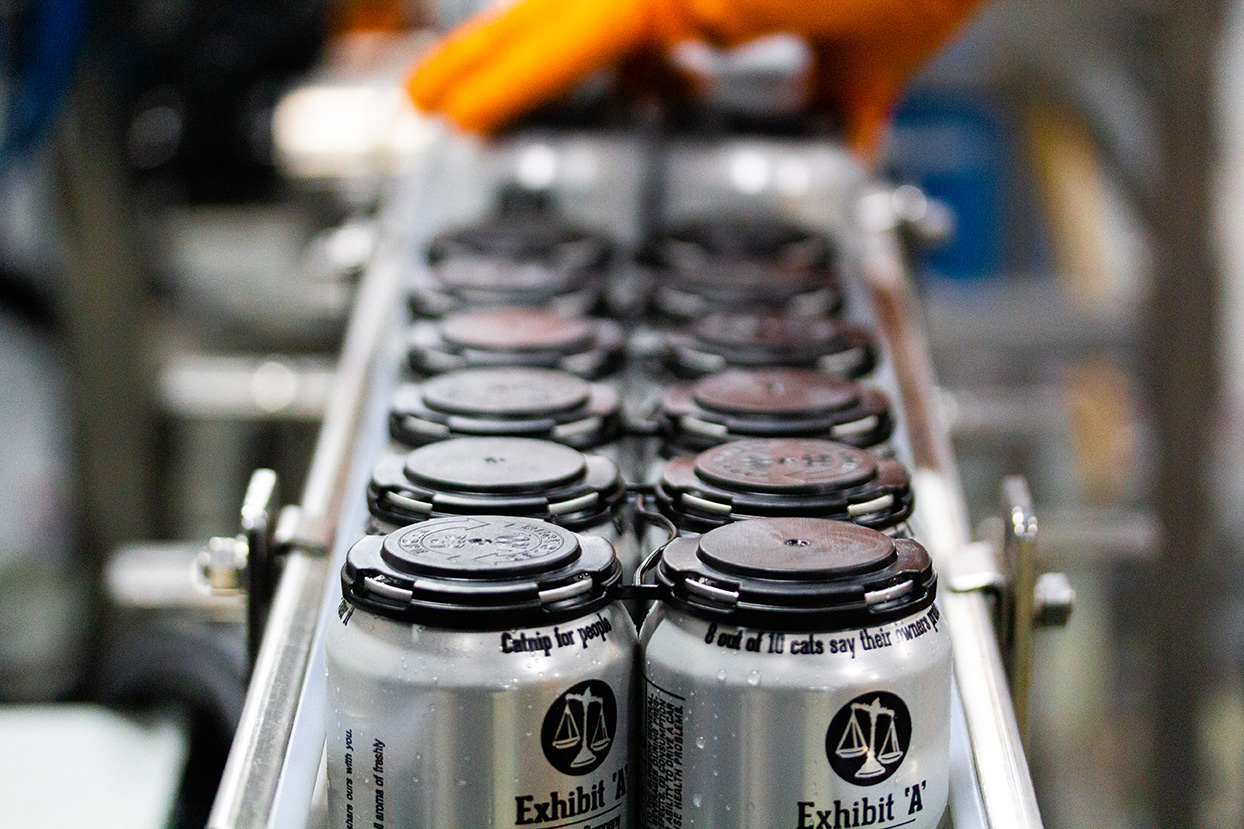 Our Taproom is open for curbside beer to-go – no indoor service at this time.
Due to the temporary restrictions on bars and restaurants ordered by the Governor of Massachusetts in response to the COVID-19 pandemic, our indoor Taproom is not serving draught beer or hosting events at the moment. But we are still offering sales of cans to-go, merchandise, and provisions from our partners via curbside service at the Taproom! Order using the link at the top of this page or the button below, and check out our new hours at the bottom of this page.
Thank you for your continued support!
Order beer (& more) online safely and we will bring it all out to your car!
Seasonal Beer Garden / To-Go Staff Job Summary: Exhibit 'A' Brewing Company, a production brewery, beer garden, and to-go [...]

Welcome to Exhibit 'A' Brewing Company
A Brewery In Framingham, MA

Exhibit 'A' Brewing Company offers a fun look at storytelling through beer with a subtle nod towards the meaning of life. While we may know the answer (42), it's the questions that keep us searching. We are all about experiencing life and having a great beer or three along the way. If the beer came from our own brewery, even better! We keep our lives, and our beers, simple and honest.
Beer was meant to be enjoyed together. So we invite you to join us at our brewery in Framingham, Massachusetts. While you are here, enjoy full, half or sample pours of our beers in our brewery taproom and 16 ounce cans to go. We think our beers taste the best in our brewery, but they will probably taste even better in the comfort of your own home, shared with friends and family. That's because we believe it's the way beer was meant to be enjoyed.
We believe we have a responsibility to our customers to protect our environment, our community, our industry and most of all our staff. We take our obligation to sustainability and acting in an environmentally friendly way very seriously. So we use efficient modern procedures, care for the beer from brewing to packaging to ensure a quality product and use the freshest and tastiest ingredients available. Above all else, we promise to cultivate and foster a positive place to work for our staff and design and operate a brewery where our guests feel welcome and appreciated.
Come visit our brewery in Framingham, MA and sample our liquid evidence for yourself.
Thanks in advance from the staff at Exhibit 'A' Brewing Company.
Find your balance.

2019 Small Business of the Year

Most Underrated Brewery in MA – Thrillist 2019

Winner of 2017 RateBeer Best New Brewer for Massachusetts

36 Best New Breweries to Open in 2016 – BeerAdvocate

Top 5 Brewery to Watch in 2018 – Eater Boston

2017 Manufacturer of the Year – MA Legislature

Top 5 Rated Brewery in MA – Boston Magazine