What? We did a collaboration with Avidia Bank?
Yeah, you read that right! We did a collaboration beer with Avidia Bank called Demo Tape Nineteen: Liquid Tender! And no, there's no money inside the can, just beer.
As a new business in Framingham, we knew we wanted to be as involved as possible in what was happening in this great town (now a city). We sponsored charity events, fundraisers, hosted numerous events here in the taproom for local organizations and took part in as many community events as we could. At pretty much every turn, we bumped into our friends from Avidia Bank! We both quickly realized that we shared a lot of the same values about our community. Mainly, that a community supports a business that supports the community. Not to mention, Avidia Bank and their staff have also been big supporters of our brewery since day one. So when they proposed working more closely together by collaborating on a beer, we loved the idea!
How did this all come about? A few months ago, a perfect opportunity to work together presented itself. We wanted a way to showcase great local music and highlight some of the bands that have played at our brewery. We came up with Demo Tape Fest! This all-day music and beer fest will take place on Saturday, July 21 and is one of the biggest events we've ever tried to pull off! We needed some help. So we turned to our friends at Avidia Bank to see if they would be interested in sponsoring it. They jumped at the chance and took it one step further. Why not collaborate on a beer at the same time? Thus, Demo Tape Nineteen: Liquid Tender was born! This wasn't going to be some simple white label or slapping a logo on a beer label. The Avidia team helped create the beer and even helped brew and package it! It was fun turning these bankers into brewers for the day. We are super proud of this beer and proud of the friends and businesses we have here in Framingham.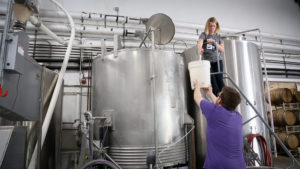 But why a bank? What's this all about? We believe that collaborations should be about more than just the beer. A true collaboration is a partnership, a long lasting friendship that has lasting effects. Avidia is a business that gets it. By being active in the community, you help that community become stronger. And a strong community is good for business. By collaborating on a beer, we hope to bring awareness, not only to our respective businesses, but also to the City of Framingham and the fun and exciting people, events and businesses that are here. And if we can raise some money for a good cause at the same time, even better! That's why Exhibit 'A' Brewing and Avidia Bank are splitting a contribution from each 4-pack sold to the Rise Above Foundation, which helps foster kids here in the MetroWest. And Demo Tape Fest on Saturday, July 21, will raise money to help send a foster child living in the MetroWest to a semester at School of Rock Natick! So it's not just about our businesses, it's about helping kids, too.
So here's to active partnerships, working together to make this a better place to live and work and helping make a better life for kids.