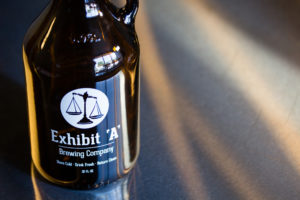 Our Policy on Growlers
Many people have been asking us what our policy is going forward regarding the refilling of growlers. On May 24, 2017 the ABCC (Alcoholic Beverages Control Commission) released an advisory statement on the refilling of growlers. This statement created almost as many questions as it answered and left a lot open to interpretation. Mainly, it allows Farmer-Breweries (like us) and Brew Pubs to fill third-party non-brewery branded growlers.
Our primary concern is providing a quality beer experience for the customer. Our canned products provide the best experience outside of our taproom but we understand that there are some people who enjoy growlers. So for those folks, we have put together the guidelines below.
The growler must be clean! We reserve the right to refuse to fill any growlers that we find too dirty to clean with a hot water rinse. Please rinse your growlers thoroughly with only hot water after use. Do not use soap or detergent. And do not store your growlers with the caps on. It creates a terrarium for mold and bacteria.
If the growler is not an Exhibit 'A' Brewing Company growler, it must not have any other brewery markings, labels, tags or stickers on it.
We will fill 32oz and 64oz growlers only and the container must have the volume indicated on the container.
The container must be intended to be used as a beer container.
We will only fill 32oz and 64oz glass growlers that fit a standard 1.5" cap. We cannot fill the Boston Round or "medicine bottle" style 33mm growlers.
We will fill 32oz and 64oz stainless steel and Hydro Flask style growlers. But they must be clean and have a resealable lid.
If you have any questions, please use the Contact Us page or call us at 508-202-9297.
Thanks,
The Exhibit 'A' Brewing Company Team