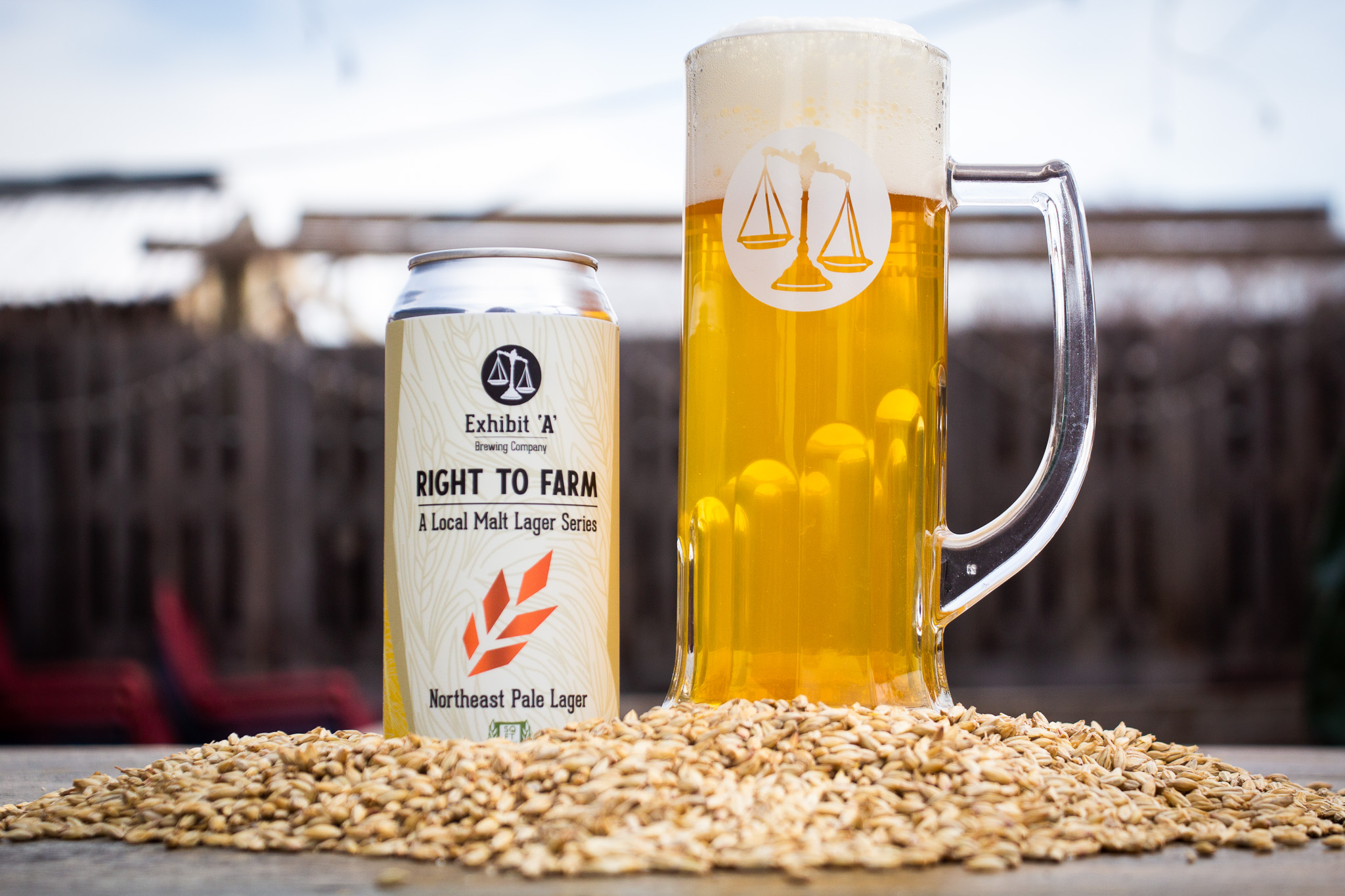 Now Available: Right to Farm: Northeast Pale Lager
A crisp and light dry hopped pale lager brewed entirely with locally grown and malted grains. This lager has light notes of toasted bread and water crackers with a touch of herbal and orange hop character.
It uses the following malts:
Girl Power Pils, Munich, and Va Va Voam from woman owned Dancing Grain Farm, NY
Vienna from Thrall Farm, CT
Each case of this beer supports 90 square feet of local farmland.
ABV 4.7%
Welcome to Exhibit 'A' Brewing Company!
Our Framingham, MA Taproom is open for draught beer and cans to-go.
You can also order Taproom items online for curbside pickup – see link below.
Taproom Hours are:
Monday through Wednesday Closed
Thursday 4pm – 9pm
Friday 5pm – 10pm
Saturday 2pm – 10pm

Sunday 12pm – 6pm
Sorry but no dogs allowed inside taproom other than service animals.
This Month's Events & Guest Food Vendors
admin
Full-Time Production Brewery Staff Exhibit 'A' Brewing Company is looking for experienced brewery staff to join their production team! […]
admin
At Exhibit 'A' Brewing Company, it's important for us to be a valuable contributor to our local economy and community. Supporting local suppliers and using local ingredients whenever possible is part of that commitment. [...]

Welcome to Exhibit 'A' Brewing Company
Exhibit 'A' Brewing Company is a local community focused craft brewery in Framingham, Massachusetts
At Exhibit 'A' Brewing Company, we believe that a beer is greater than the sum of its ingredients. It's the place where you experience it, the memories you create with it, and most importantly the people you enjoy it with. It's about a commitment to using local ingredients, providing a space where everyone feels welcome, and supporting their local community. That's why each beer is an exhibit of our passion and commitment to where they come from. Enjoy your Exhibit 'A' beer with family and friends, because every great story begins with Exhibit 'A'.
Exhibit 'A' Brewing Company is a company of quality beer, customer service and community. As we seek to bring people together through beer, we believe the success of our staff drives the success of our business. We establish a platform for success through our commitment to education, equity, inclusion, and respect. When we are supported and inspired, we make better beer and better customer experiences.
Exhibit 'A' Brewing Company is at its best when every person feels respected, included, and heard. We strive to foster a workplace that reflects our community. A place where everyone can show up as themselves and be the best person they can be every day.
We do this by working with clients, vendors, nonprofit organizations, and community partners that share these same values. We invest in our staff through education and continued training. And each day, we strive to make our space inclusive and welcoming to all our staff and guests.
We respect you.
We expect the same in return.
Exhibit 'A' Brewing Company has ZERO TOLERANCE for: racism, sexism, homophobia, xenophobia, discrimination, violence or harassment in any way, shape or form. We will not tolerate any aggressions, microaggressions, innuendos or jokes against one another.
This applies to all Employees, Customers, Accounts, Vendors, Partners, Collaborators, and Contractors.
We are working hard to be a safe and welcoming place, physically and mentally, for everyone. If you see or hear something, let us know.
You are welcome to come visit our brewery, taproom and beer garden in Framingham, MA and sample our liquid evidence for yourself.
Thanks in advance from the staff at Exhibit 'A' Brewing Company.
Find your balance.

2019 Small Business of the Year

Most Underrated Brewery in MA – Thrillist 2019

Winner of 2017 RateBeer Best New Brewer for Massachusetts

36 Best New Breweries to Open in 2016 – BeerAdvocate

Top 5 Brewery to Watch in 2018 – Eater Boston

2017 Manufacturer of the Year – MA Legislature

Top 5 Rated Brewery in MA – Boston Magazine